Stone/Brick Cleaning
from Easy Clean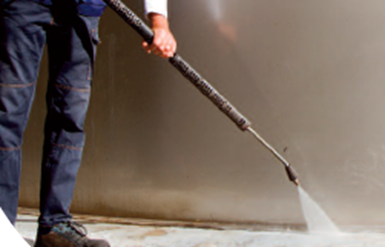 Most homes are made from either stone or brick and these materials are also popular for walls around the property.  Over time, they can become discoloured, stained and generally grimy looking due to the effects of weather and debris from plants.  If your home needs stone/brick cleaning, Easy Clean is here to help.
As experts in power washing, we can apply our equipment to clean the walls of your home.  That means the colour of brickwork or stone can be restored without the risk of causing damage – a common problem with DIY power washing.  We can remove the build-up of moss and lichen, green stains and general discolouration to restore the walls to their original colour.
We also offer the same service for walls around your property.  These walls can often discolour in the same way as the walls of your home, especially if there are trees or shrubs growing close by.  We can use the power washer to remove this dirt and grime and restore the wall's colour, without harming the plants.
We offer no obligation quotes on all jobs and also can power wash other areas around the house including the driveway, garden paths, fences, patios and decking.  So to get a quote for your power washing needs, contact Easy Clean Powerwashing to discuss your requirements.