Decking Cleaning
from Easy Clean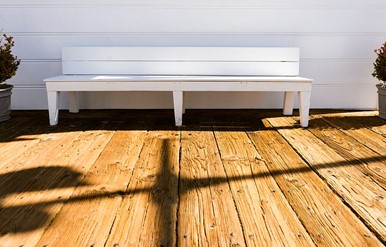 Decking is a popular way to create an outdoor living space in gardens and is made from treated wood that can withstand long term weather damage.  But decking can be susceptible to damage from dirt and grime, moss, lichen and other stains as well as becoming discoloured due to use.  If you have a decking area that isn't looking at its best, Easy Clean's decking cleaning service is just what you need.
We can visit your property and offer a personalised quote for cleaning the decking.  We have top quality power washers that can handle even the toughest stains without damaging the wood below.  We also train our staff to know how to get the best from the equipment without harming the wood.  This means you can easily get a new and smart looking decking area in your garden, ready for the spring and summer.
As well as decking, we also offer driveway cleaning, patio and path power washing and even services for walls and gardens.  We can help clean any area around the property and even the walls of the house itself.
So if you have decking that has a moss problem, discoloured wood or other decking issues, give us a call today to book your personalised, no obligation quote.
Contact Easy Clean Powerwashing to discuss your requirements.