Commercial Powerwashing
from Easy Clean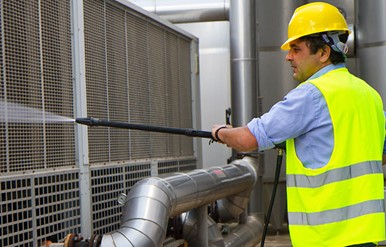 The exterior of a business plays a big part in the first impression that customers get when they visit, and this means having it look smart and free from dirt and grime is very important.  While there is always the option to have a member of staff use a power washer to attack the problem, it is often more effective and cost efficient to have experts in commercial powerwashing services handle it for you.
At Easy Clean, we have worked on all kinds of buildings for our commercial customers.  Not only that but we have cleaned paths and car park areas, driveways, outbuildings and even outdoor furniture.  Our job is to remove dirt and grime but also moss, lichen and other sources of discolouration that can affect properties.
We have both hot and cold water machines available so we can always use the option that best suits the problem.  Our staff are fully trained to ISO 9001 Quality Standards and all work comes with a guarantee of quality.  The majority of our cleaning processes also avoid the need for chemicals too.
So if you have a commercial property that is in need of some cleaning, areas around the business that are looking shabby or other problems that powerwashing can serve, contact Easy Clean Powerwashing to discuss your requirements.