Domestic Powerwashing
from Easy Clean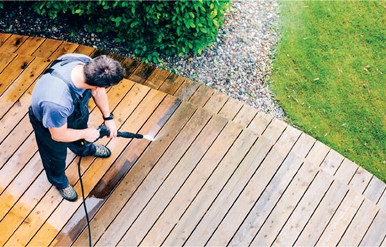 Buying a power washer is a popular move for some people but not everyone wants to own one – or operate one!  If you are looking for a domestic powerwashing service, then Easy Clean can help.  We offer a variety of services to help clean areas around your home quickly and efficiently.
Outdoor services can get in a mess – the weather, the trees, general dust and grime can all add up and ensure that a nice, smart path suddenly starts to look a bit green or messy.  The answer is to simply powerwash it and if you don't want to invest in a machine to do it yourself, we can do it for you.
We offer decking and patio cleaning, powerwashing driveways and paths around the house and even walls or fences around the property.  We can clean balconies, garden furniture and even the walls of the house.  All we need is access to running water and an outside tap is perfect for the job.  We can then clean the area with our specialist high power equipment which can remove even the toughest dirt and grime as well as moss and lichen from surfaces.
Contact Easy Clean Powerwashing to discuss your requirements. We operate across the greater Glasgow area.