Patio Cleaning
from Easy Clean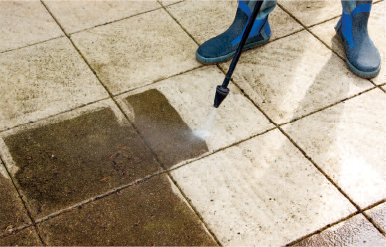 Many of us have patio areas in our back gardens, spots where we can sit in the warmer months and enjoy being outdoors.  They are often paved or concrete and while these materials are tough, they can be affected by various things that make them discolour or look messy.  If your patio isn't looked at its best, Easy Clean offer patio cleaning to sort it out.
We can restore concrete and paved patio areas with a range of power washing options.  This means we can remove common causes of stains and discolouration including dirt and grime, algae, moss and lichen.  We can also clean any garden furniture on the patio to make sure the whole area looks smart and clean.
We use a range of cleaning options and only use chemicals in a few situations.  All of our staff are fully trained on the equipment we use and work to the latest Health & Safety standards.  As well as power washing patios, we can also offer our services for decking areas, paths and driveways, walls and fences around the property.
So if you have a patio area that isn't looking great or want to spruce things up for the coming warmer months, Contact Easy Clean Powerwashing to discuss your requirements.